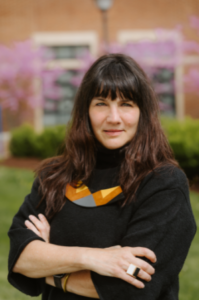 Dr. Jaksch has been at the forefront of advancing faculty-student research collaboration at TCNJ for 11 years. Now, as the third recipient of the Barbara Meyers Pelson '59 Chair in Faculty-Student Engagement, she's aiming to enhance inclusion, diversity, community, and belonging at TCNJ.
Dr. Marla L. Jaksch received her BFA in painting and drawing, minor in sculpture from the University of the Arts in Philadelphia. She received her masters and PhD in Women's, Gender, & Sexuality Studies and Art Education from The Pennsylvania State University, University Park, PA. Dr. Jaksch is a recipient of a research and teaching Fulbright in the Institute of Development Studies at the University of Dar es Salaam, where she taught qualitative research methods courses and gender and development to graduate students and introduction to development students to undergraduates and conducted research regarding women's contribution to the liberation struggle in eastern and southern Africa.
Jaksch's proposed campus wide project invites the campus community to consider how the campus environment might become a more welcoming and inclusive space, building on the theme of "Resilience." 
"The visible presence of diverse heritage in our community could offer a sense of connection to both the past and the present. For instance, how might we, as a campus community, reflect upon and visibly acknowledge our connection to the indigenous people who once lived on the land where the campus now stands?"
With expertise and guidance from artists, scholars, and community activists to consider the ways art and history live in public, Jaksch aims to facilitate campuswide discussions of memory, history, trauma and healing, and how public art can assist us in grappling with complex issues regarding public space. For instance, how might we as a campus open up a conversation about descendants of the land TCNJ now occupies?
"We are attached to places we live and learn and we create significant bonds with these places. What are the bonds we have to this place we call TCNJ? Having places that make people feel comfortable and appreciated is linked to a sense of well-being and quality of life. How might we make intentional generational change in the ways that art and history live in the public through memorials, public heritage, and monuments at TCNJ?" 
Jaksch hopes that students will participate in a process that elevates stories of resistance, healing, transformation and hope into shared public works and spaces.
With funds endowed by Mrs. Pelson, Dr. Jaksch is continuing her work teaching students about research, archivist foundations, and critical digital humanities through documenting the history of Women's, Gender, and Sexuality Studies at TCNJ over the past 50 years. 
During her chairship, Dr. Jaksch will offer a series of workshops that center innovative, social justice centered praxis. During the 2021-22 academic year Dr. Jaksch has launched the WGSS Archives Fellows Program where students serve as research fellows conducting digital humanities research. Through their collaborative research, Dr. Jaksch and her students aim to create an open-access digital archive of WGSS related materials that will serve as the locus of information about the founding of the program and the discipline of WGSS at TCNJ, in New Jersey, and beyond. 
Additionally, Jaksch has offered:
3-day podcasting workshop by the Chicago-based collaborative group AirGo

Spoken Word as Social Justice Leadership workshop with Dr. Tony Keith

Field trips to see various public artworks, heritage site, memorials, and monuments

Guest lecture by Delhi-based journalist and historian, Uma Asher

Co-sponsored talk by Dr. Patricia Kim, "Un/Siliencing Memory: A Transhistorical Approach to Monuments"

Workshop by Dr. Angel Nieves, "

Heritage Justice in the Digital Humanities: Community-Based Practices and BiPOC Public Humanities Social Justice Work"

Anti-racist Book Club for faculty, staff, and students featuring the author of

Nice White Ladies

, Jessie Daniels
Dr. Jaksch would like to thank Mrs. Pelson for establishing this critical endowment fund with a rotating chair that propels the college forward in faculty-student engagement. She is also deeply appreciative of the honor of being selected as the third endowed chair.