Event: Annual Pelson Lecture Series
Date / Time: Tuesday, April 2, 2019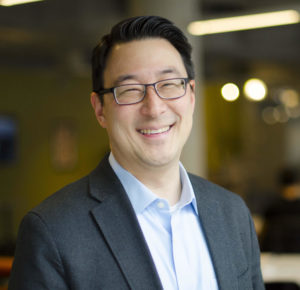 Location: Education 212
Speaker: Dr. Youngmoo Kim, Director of the Expressive and Creative Interaction Technologies
(ExCITe) Center, Drexel University 
Pathways for Disciplinary Integration in Higher Education  
On April 2, 2019 the Annual Pelson Lecture Series featured Dr.Youngmoo Kim. Dr. Youngmoo Kim discussed his findings and research about the important trend of  integrating  disciplines such as the humanities and arts with sciences, engineering, and medicine at the undergraduate and graduate level as it helps students better prepare for their work life, social life and citizenship.  In addition, he shares his experience from his work at the ExCITe Center of Drexel University which focused on facilitating a greater integration and collaboration across a diversity of academic disciplines, where he found that integration promotes creativity, improves the ability to deconstruct complex concepts and content mastery, increases the motivation and engagement in learning and improves communication and teamwork skills.
The event was well attended by faculty, administration and students at The College Of New Jersey. Dr. Youngmoo Kim spent great time with students after the lecture to discuss their various questions about his research. Additionally, he spent time touring TCNJ's STEM building, and spoke to many of the Computer Science research students, many of whom were taken to Philadelphia to visit his lab in the summer of 2019. 
Dr. Youngmoo Kim has a Ph.D. from the MIT Media Lab and holds Masters degrees in Electrical Engineering and Music (Vocal Performance Practice) from Stanford University as well as Engineering and Music degrees from Swarthmore College. He is a co-author of the National Academies report "Branches from the Same Tree", released May 2018, on the integration of the Humanities and Arts with Sciences, Engineering, and Medicine in Higher Education. He received Drexels 2012 Christian R. and Mary F. Lindback Award for Distinguished Teaching, gaining the "Scientist of the Year" honors at the
2012 Philadelphia Geek Awards. 
His research group, the Music and Entertainment Technology Laboratory, pursues AI for music and sound, human-machine interfaces and robotics for expressive interaction, and his research is supported by the National Science Foundation, the John S. and James L. Knight Foundation, and the NAMM Foundation, among others.